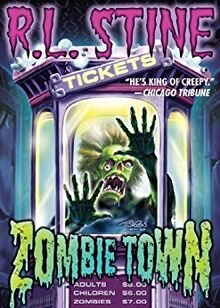 Zombie Town is a zombie novel by R.L. Stine.
Synopsis
This used to be such a nice, quiet town. But that was before all the zombies. When twelve-year-old Mike and his friend, Karen, go to see a horror movie called Zombie Town, the last thing they expect is for the title characters to come down off the screen and chase them through the theater. And it's not popcorn these hungry creatures want to chomp on—it's human brains!
Now Mike and Karen frantically try to flee through the panicked streets of their hometown before shuffling bands of zombies turn every last citizen into a ravenous flesh-eater. But if Mike thinks he'll be safe once he reaches his house and warns Mom and Dad, he'd better think again. When the zombies say it's lunchtime, no home is safe! Zombie Town is R.L. Stine's delightfully spooky take on the horror genre that's infecting the world, bite by bite.
Ad blocker interference detected!
Wikia is a free-to-use site that makes money from advertising. We have a modified experience for viewers using ad blockers

Wikia is not accessible if you've made further modifications. Remove the custom ad blocker rule(s) and the page will load as expected.