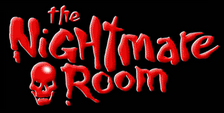 The Nightmare Room is an American children's anthology horror series that aired on Kids' WB. The series was based on the short-lived book series The Nightmare Room children's books created by Goosebumps author, R.L. Stine. The Nightmare Room originally aired from August 31, 2001, to March 16, 2002, in the United States. It was rated TV-Y7 for fantasy violence (FV) and scenes deemed too scary or disturbing for younger viewers in the United States.
Reruns of the series started airing on Chiller on January 7, 2013.
Premise
The Nightmare Room is based on fears that children have, such as ghosts and monsters, which normally ended with comments by the narrator whose final words always were "the nightmare room", then a door with the The Nightmare Room logo would appear, closing. In many instances, the series resembled the television series The Twilight Zone with teens taking the role as the main characters, many of whom portrayed the characters were popular actors, including Amanda Bynes, Frankie Muniz, Tania Raymonde, Justin Berfield, Drake Bell, Brenda Song, Shia Labeouf, A.J. Trauth and Dylan and Cole Sprouse. In addition, Robert Englund (famously known as Freddy Krueger from the Nightmare on Elm Street films) played as various roles. Actress Kaley Cuoco (later known for her roles in the shows 8 Simple Rules and The Big Bang Theory) also had a part in one of the episodes.
The Nightmare Room is Kids' WB's only live-action show and aired on the short-lived Kids' WB variant of Toonami, making it the only live-action show to air on the strand. The show was produced by Parachute Entertainment, Tollin/Robbins Productions, and Warner Bros. Television.
Book titles and summaries
The Nightmare Room Thrillogy
Fear Games: Twelve kids with special abilities have been selected to take part in a reality show called Life Games, set on an island haunted by a psychotic witch.
What Scares You the Most?: April (one of the contestants) is stranded on the island and must fight her biggest fears in order to escape.
No Survivors: After her escape in What Scares You the Most?, April must return to the haunted island in order to rid it of the witch's spirits.