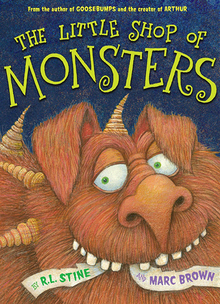 The Little Shop of Monsters is a picture book written by R.L. Stine and illustrated by Marc Brown.
Synopsis
A frighteningly fun picture book adventure from two monstrously talented children's book icons! Are you afraid of monsters? Do they make you shiver and shake and shut your eyes really tight at night? Welcome to the Little Shop of Monsters! Do you want a SNEEZER? A TICKLER? Or one of the CREEPIEST monsters of all? Come on in and choose your favorite, if you dare (before one of them chooses YOU!).Renowned children's book creators Marc Brown and R.L. Stine join forces for the first time - in Stine's picture book debut - with a tale that is monstrously good fun. With a narrative voice reminiscent of The Monster at the End of this Book, but with Stine's signature spooky charm and Brown's wildly imaginative illustrations, this is sure to be a new Halloween favorite.
Ad blocker interference detected!
Wikia is a free-to-use site that makes money from advertising. We have a modified experience for viewers using ad blockers

Wikia is not accessible if you've made further modifications. Remove the custom ad blocker rule(s) and the page will load as expected.