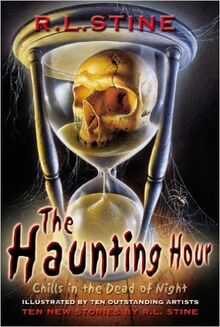 The Haunting Hour is a collection of ten short stories by R.L. Stine.
Synopsis
Ten terrifying tales that will haunt you forever...
"Some stories are too terrifying to tell," says R.L. Stine. "They are the ones that live in the darkest corners of my mind. The ones that give me chills in the dead of night. The ones that I must tell you now -- or they will haunt me forever!"
Read the spine-chilling story of a baby-sitter who loves evil tricks...the terrifying tale of a boy who dared to lie down in an ancient mummy case...the frightful story of two boys just dying to have the scariest Halloween ever...
Are you ready for these scares and more? R.L. Stine, the #1 best-selling children's author of all time, presents ten new stories that will give you chills in the dead of night and turn any hour into The Haunting Hour!
Stories
The Halloween Dance
The Bad Baby Sitter
Revenge of the Snowman
How to Bargain with a Dragon
The Mummy's Dream
Are We There Yet?
Take me with you
My Imaginary Friend
Losers
Can you Draw me
Reprint
Trivia
My Imaginary Friend was the only story to be made into an episode of The Haunting Hour. although the episode Brush with Madness appears to be a partial adaptation of the story Can You Draw Me.
How to Bargain with a Dragon serves as a direct sequel to the short story The Most Evil Sorcerer from The Nightmare Hour.