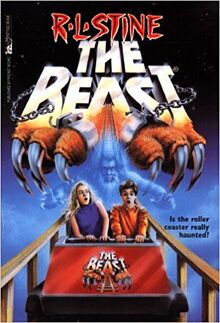 The Beast is a stand alone novel by R.L. Stine.
Synopsis
THRILL RIDE
I mean, The Beast® was one awesome ride! My cousin Ashley and I had never been on anything like it. And then we heard about the ghost that was supposed to ride it at night after the park closed. A ghost on a roller coaster? Yeah, sure. I didn't believe it, of course.
Then one night after the park closed, we found ourselves on The Beast. Was I shocked when it started to move! But that was just the beginning. Because, you see, we weren't alone...and the guy with us wasn't exactly human!
Trivia
The book cover art was done by Goosebumps artist, Tim Jacobus.
Ad blocker interference detected!
Wikia is a free-to-use site that makes money from advertising. We have a modified experience for viewers using ad blockers

Wikia is not accessible if you've made further modifications. Remove the custom ad blocker rule(s) and the page will load as expected.