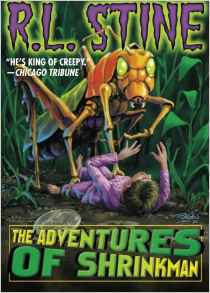 The Adventures of Shrinkman is a stand alone horror novel by R.L. Stine.
Synopsis
When Danny Marin isn't playing basketball, he spends hours drawing Shrinkman, his favorite comic-book superhero, or watching Shrinkman movies. His hero can shrink to the size of a bug. But, whoa—wait. Suddenly, Danny finds himself shrinking, too! His parents are horrified, his friend Megan thinks it's funny, and his doctor is baffled. With each passing hour, Danny gets smaller and smaller—until he's the size of a sparrow. Soon he's fighting for his life against a grasshopper, a colony of ants, and even his own dog. He isn't safe anywhere. He has to find a cure—before he shrinks away forever.
Funny and terrifying and filled with BIG surprises, The Adventures of Shrinkman proves that it takes more than size to overcome impossible hurdles.
Ad blocker interference detected!
Wikia is a free-to-use site that makes money from advertising. We have a modified experience for viewers using ad blockers

Wikia is not accessible if you've made further modifications. Remove the custom ad blocker rule(s) and the page will load as expected.