Slappy the Dummy
 is a fictional character and antagonist in the 
Goosebumps
 children's series by 
R.L. Stine
. He is one of the series' most popular villains and the main antagonist of the 
Night of the Living Dummy
 saga. He is also the main antagonist of the 
Goosebumps
movie. He is a Ventriloquist's Doll that comes alive by these words, "Karru Marri Odonna Loma Malunu Karrano."
Inspiration
According to R. L. Stine, Slappy was inspired by the literary classic The Adventures of Pinocchio. He liked the idea of a wooden puppet coming to life due to the book so he decided to create Slappy.
Notable appearances in books
Title
Year Released
Information

---

1993
In the first Night Of The Living Dummy book, Twin sisters Lindy and Kris Powell are taking a walk when they come across a dummy who Lindy names Slappy (Please note that in this book even though he's present and awake Slappy is not the main villain until the very last page.) Lindy decides to keep Slappy even though Kris does not like Slappy. Lindy becomes a good ventriloquist and Kris gets jealous. So, Kris gets a dummy named Mr. Wood and from there bad things start happening.

---

1995
Slappy becomes the main antagonist in Night Of The Living Dummy II, when Amy Krammer, the main character, wants a new ventriloquist dummy for her family's weekly 'talent show.' Her dad finds Slappy at a local pawn shoppe, and gives it to her as a gift. She takes out a slip of paper that has the magical words on it, reads it aloud, and Slappy slowly comes to life, causing mischief and havoc for Amy and her family. In the end, he is destroyed by Dennis, Amy's old dummy.

---

1996
Trina and Daniel O'dells dad came home one night, with the broken Slappy, which he got for free from a guy which he believes is Amy's father. Shortly after that day ends, the dummy soon gets fixed by healing Itself all because the Family read the infamous note that came with him, and soon was later named by their father as "Smiley" and became his new favorite dummy. A part of his amazing collection. But ever since their cousin Zane had decided to spend a few nights at their house once again, problems start to occur with the other dummies with forms of pranks, the main one being Rocky who was first found in an event with him being seen by Zane in his bedroom. In all these cases Trina and Daniel were blamed for the events which made them unhappy. Later it turns out the real trouble maker is Slappy. With help from the other dummies who he brought to life. Which in the end become hell to Slappy when he is betrayed by them to protect the O'dells.

---

1998
Jillian takes her little sisters, accompanied by their doll Mary-Ellen, to a puppet show of a teenager named Jimmy O'James, with Slappy the Dummy as his partner. Slappy pulls the twins up on stage with Mary-Ellen and makes fun of them. The twins are hurt by this, and take-off after the show. While trying to find her twin sisters, Jillian walks in Jimmy and Slappy's dressing room and sees Slappy giving Jimmy a punch in the nose. Jimmy tells her that he and Slappy are just working on a new act. After she leaves, Jimmy puts Slappy to sleep and throws him out. Jillian's friend Harrison finds Slappy and brings him to Jillian's house as he believes that Slappy is broken and wants Jillian's dad to fix him. After a series of troublesome events Jillian and Harrison host a birthday party and try to put on a show only to have it be revealed that Mary-Ellen is alive and that she re-awoke Slappy so she could marry him, but Slappy hates Mary-Ellen and desires to marry Jillian.

---

1999
Slappy starts out being the disobedient puppet of Jimmy O'James. Fed up with Slappy, Jimmy replaces Slappy with Wally, who tells Jimmy how to control Slappy's evil: cursing him to doing three good deeds in one week. Although it is, in the end, revealed to be a nightmare, the book ends with his nightmare slowly coming true.

---

2008
Britney Crosbey and her friend, Molly Molloy, have to put up with Britney's obnoxious cousin, Ethan, and his new friend Slappy, whom Ethan calls "Mr. Bad Boy". Slappy, though, seems to be the one causing the trouble this time, and Britney decides to put Slappy to sleep, after seeing that she only had to say the magic words again—simple as that. But then when she finds out that was Slappy reawakened by the magic words, he vows and comes up with a plan to use a special 'Mind-Stealer' doll to make Britney into his own personal perfect slave. At the end, Britney decides to use the 'Mind-Stealer' doll against Slappy, whose mind gets stolen at the end of the book. Slappy later makes another appearance in Dr. Maniac Vs. Robby Shwartz where he hunts down Britney and Molly and cruelly has them send Robby back to Horrorland's arcade.

The Streets of Panic Park

---

2009
Slappy appears in this book to team up with Luke and Lizzy to escape The Menace in Horrorland and Panic Park to outsmart The Menace and escape from both parks.

---

2010
Ray Gordon brings an ordinary ventriloquist dummy, Slappy for his present and wanted to scare his brother, Brandon with it.

Slappy New Year was a book in a planned to be released series called, Goosebumps Gold. The series was never released due to the expired contract that R. L. Stine had with Scholastic at the time. However R. L. Stine did release the book, but changed the plotline. It was originally going to be the sequel to Slappy's Nightmare, but over the years since R. L. Stine changed the book's plot he dropped the idea of it being a sequel.

Gaslighted: Slappy the Ventriloquist Dummy vs. Aloysius Pendergast

---

2014
Pendergast wakes up in Stony Mountain Sanatorium and confronts himself with a great dilemma: is Slappy The Dummy part of his dream? Or is reality itself the dream of an insane man? (the book's title is a reference to gaslighting)

---

2013
Jackson Stander is every parent's dream. He doesn't get into trouble, he always does his homework, and he never, ever lies. His teachers all trust him completely. He even volunteers at the local Youth Center. But that was all before Jackson came across an evil ventriloquist dummy. Now he must deal with Slappy and the son of Slappy as they wreak havoc on his family and friends. Jackson will soon see that two Slappy's are not better than one!

---

2017
It's bad enough Ian Barker has to spend his twelfth birthday with his sister and their two annoying cousins. The four of them can't ever hang out without getting into trouble. Vinnie and Jonny always want to play with Ian's stuff. They take extra turns and break everything they touch. Even Ian's new birthday presents are up for grabs. But when Ian gets a Slappy dummy from his dad, things go from bad to worse. When Slappy's in charge, you don't fight over him, he fights over you!

---

2017
Luke Harrison's dad makes horror movies. It is a lot of fun being around a lot of such scary stuff - especially when you have your own monster museum at home. But when two ventriloquist dummies - Slappy and his twin Snappy - join the collection, things get real creepy. Slappy and Snappy can walk and talk on their own. And they can make you scream on their own. They have a plan to make everyone's lives miserable. Will Luke be able to stop this terrible twosome?

---

Cover Art N/A
Appearances beyond the books
Slappy has also been made into an actual ventriloquist doll available from major retailers. He was first manufactured by Goldberger Doll corporation after a nine-year-old boy from Long Island sent them a letter suggesting the idea in 1998. There is also a mask and a full costume available for sale. Night of the Living Dummy 3 and Bride of the Living Dummy have also been adapted for VHS and DVD, the second on DVD includes "Bride of the Living Dummy".
Authors Douglas Preston and Lincoln Child recently posted an announcement via their Facebook status:
"We have just written a short story with the amazing author, R. L. Stine. It will be published a year from now in a new, as yet unnamed, anthology. It features Pendergast and... R.L. Stine's most terrifying creation, Slappy the ventriloquist's dummy. This is one strange, strange story... The title is GASLIGHTED."
This was published 30 September 2014 as Gaslighted: Slappy the Ventriloquist Dummy vs. Aloysius Pendergast.
In other media
He was voiced by both Ron Stefanuik and Cathal J. Dodd in the Goosebumps television series and appeared in four episodes:
"Night of the Living Dummy II"; episode 10 aired 2 January 1996
"Night of the Living Dummy III" Part I; episode 43 aired 20 July 1997
"Night of the Living Dummy III" Part II; episode 44 aired 20 July 1997
"Bride of the Living Dummy"; episode 60 aired 14 February 1998
The original "Night of the Living Dummy" story was not adapted to television, nor were the six post-Bride stories.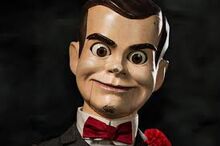 He is the main antagonist in the 2015 Goosebumps movie, where he was voiced by Jack Black, who also is R.L Stine and the Invisible Boy, from My Best Friend is Invisible.