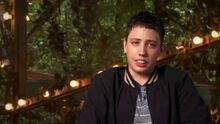 Ryan Lee was born October 4, 1996 in Austin, Texas. He is a young actor, he is best known for his roles in Super 8, R.L Stine's The Haunting Hour, This is 40, and Goosebumps.
He played in the episode My Imaginary Friend! as Shawn.
He plays the role for Champ in the Goosebumps Movie, he is Zach Cooper's (Dylan Minnette) new friend, and they team up along with Hannah and Stine to defeat the Goosebumps Monsters.