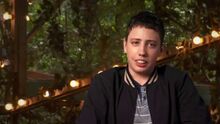 Ryan Lee, Born October 4, 1996 in Austin, Texas. He is a young actor, he is best known for his roles in Super 8, R.L Stine's The Haunting Hour, This is 40, and Goosebumps.
He played in the episode My Imaginary Friend! as Shawn.
He plays the role for Champ in the Goosebumps Movie, he is Zach Cooper's (Dylan Minnette) new friend, and they team up along with Hannah and Stine to defeat the Goosebumps Monsters.
Ad blocker interference detected!
Wikia is a free-to-use site that makes money from advertising. We have a modified experience for viewers using ad blockers

Wikia is not accessible if you've made further modifications. Remove the custom ad blocker rule(s) and the page will load as expected.