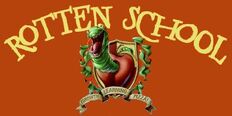 Rotten School is a children's book series written by R.L. Stine and published in 2005 - 2008. The series concerning the adventures of children at a boarding school. Each book is written from the perspective of Bernie Bridges, a fourth-grader who lives in his dormitory at Rotten School with his friends.
Books
The Big Blueberry Barf-Off!
The Great Smelling Bee
The Good, the Bad and the Very Slimy
Lose, Team, Lose!
Shake, Rattle, and Hurl!
The Heinie Prize
Dudes, the School is Haunted!
The Teacher from Heck
Party Poopers
The Rottenest Angel
Punk'd and Skunked
Battle of the Dum Diddys
Got Cake?
Night of the Creepy Things
Calling all Birdbrains!
Dumb Clucks
Characters
Bernie Bridges
Feenman
April-May June
Sherman Oakes
Billy "The Brain"
Crench
Belzer and Beast
Nosebleed
Chipmunk
Wes Updood
Joe Sweety
Trivia
Unlike Stine's other works, Rotten School does not contain themes of horror, but rather a light-hearted comedy.
In a Reading Festival on March 2010, a boy asked Stine about more Rotten School books with Stine replied saying information about a Rottel School movie, however, until now no more information has been provided.
Ad blocker interference detected!
Wikia is a free-to-use site that makes money from advertising. We have a modified experience for viewers using ad blockers

Wikia is not accessible if you've made further modifications. Remove the custom ad blocker rule(s) and the page will load as expected.