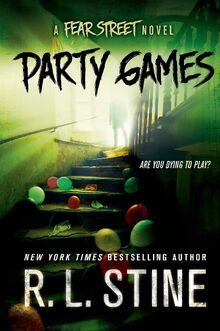 Party Games is the first book in the revived Fear Street series, published in September 2014.
Synopsis
Her friends warn her not to go to Brendan Fear's birthday party at his family's estate on mysterious Fear Island. But Rachel Martin has a crush on Brendan and is excited to be invited. Brendan has a lot of party games planned. But one game no one planned intrudes on his party—the game of murder. As the guests start dying one by one, Rachel realizes to her horror that she and the other teenagers are trapped on the tiny island with someone who may want to kill them all. How to escape this deadly game? Rachel doesn't know whom she can trust. She should have realized that nothing is as it seems… on Fear Island.
Ad blocker interference detected!
Wikia is a free-to-use site that makes money from advertising. We have a modified experience for viewers using ad blockers

Wikia is not accessible if you've made further modifications. Remove the custom ad blocker rule(s) and the page will load as expected.