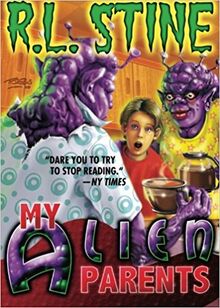 My Alien Parents is a horror novel by R.L. Stine.
Synopsis
Ten-year-old Rob thought he knew all there was to know about his parents, but suddenly things have changed. Why do Mom and Dad keep warning him not to ask too many questions? Could aliens from another world really have replaced his parents? And what's happened to Snappy, the family dog? Soon Rob's writing down all the latest weird developments in a notebook entitled REASONS WHY MY PARENTS ARE ALIENS FROM OUTER SPACE. Can he figure it out before it's too late? It's another eerily fun thriller from the inventive mind of R.L. Stine.
Ad blocker interference detected!
Wikia is a free-to-use site that makes money from advertising. We have a modified experience for viewers using ad blockers

Wikia is not accessible if you've made further modifications. Remove the custom ad blocker rule(s) and the page will load as expected.