Max Doyle is the main character of the book and film series Mostly Ghostly and is the love interest to Tracy Walker (Books) and Cammie Cahill (Films) and younger brother to Colin. Max is half-psychic and is the only person who can see spirits. When Nicky and Tara, who are around his age, appear out of nowhere, only he can see them. He's afraid of ghosts and scared of the siblings at first, but feels sorry for them in the situations they're put through with their missing parents. Max also realizes there is more to fear than the siblings and is constantly pursued by an evil ghost named Phears, who tortures Max to find the ghost siblings.
Personality
Max is kind, honest and sweet to everyone. He's also extremely loyal and caring towards his friends and the people he keeps close. He is also very smart and is a amateur magician.
Actors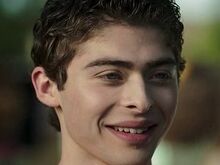 Max's actor in the films changes in each movie:
Part 3: Corey Foglmanis
Ad blocker interference detected!
Wikia is a free-to-use site that makes money from advertising. We have a modified experience for viewers using ad blockers

Wikia is not accessible if you've made further modifications. Remove the custom ad blocker rule(s) and the page will load as expected.