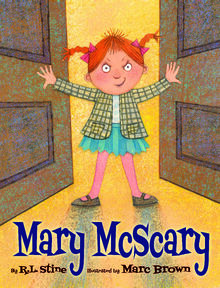 Mary McScary is a children's book to be released in Fall of 2017. It is written by R.L. Stine, and illustrated by Marc Brown. It is the second time these two have collaborated on a book.
Synopsis
Mary spends her days being scary. She scares her mom, her dad, her pets, and even a balloon! But Mary has met her match when her cousin Harry McScary comes to visit. He's not afraid of anything, until Mary finds a way to give Harry the scare of his life.
Ad blocker interference detected!
Wikia is a free-to-use site that makes money from advertising. We have a modified experience for viewers using ad blockers

Wikia is not accessible if you've made further modifications. Remove the custom ad blocker rule(s) and the page will load as expected.