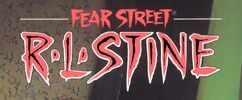 Fear Street is a teenage horror fiction series written by R.L. Stine, starting in 1989 and ending in 1997.
In October 2014, the series was revived, and Stine still writes the series today.
Books
Surprise Party
The Overnight
Missing
Wrong Number
The Sleepwalker
Haunted
Halloween Party
The Stepsister
Ski Weekend
The Fire Game
Lights Out
The Secret Bedroom
The Knife
Prom Queen
First Date
My Best Friend
The Cheater
Sunburn
The New Boy
The Dare
Bad Dreams
Double Date
The Thrill Club
One Evil Summer
The Mind Reader
Wrong Number 2
Truth or Dare
Dead End
Final Grade
Switched
College Weekend
The Stepsister 2
What Holly Heard
The Face
Secret Admirer
The Perfect Date
The Confession
The Boy Next Door
Night Games
Run Away
Killer's Kiss
All-Night Party
The Rich Girl
Cat
Fear Hall: Part 1 - The Beginning
Fear Hall: Part 2 - The Conclusion
Who Killed the Homecoming Queen?
Into the Dark
My Best Friend 2
Trapped
The Stepbrother
Ad blocker interference detected!
Wikia is a free-to-use site that makes money from advertising. We have a modified experience for viewers using ad blockers

Wikia is not accessible if you've made further modifications. Remove the custom ad blocker rule(s) and the page will load as expected.