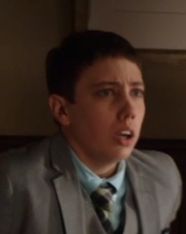 Champion, also known as Champ, is a character in the 2015 film Goosebumps As described in the film, Champ was given the name Champion because his Mom and Dad both won a bronze Olympic medals. Champ is played by Ryan Lee.
History
In the movie, Champ is Zach Cooper's best friend. One of Champ's most defining features is is cowardliness. When Zach and Champ sneak into R.L. Stine's house and unleash the Goosebumps monsters from their manuscripts, Champ joins R. L. Stine, Zach, and Hannah. Champ is able to help Zach and Hannah because he was a Goosebumps fan as a kid, so he knows all the monsters weaknesses. When he saw Taylor in danger by the werewolf he had come over his fears. He leaped into action and wrestled the werewolf, protecting her. Afterward, Taylor thanked Champ for saving her life. He then became her new boyfriend because he didn't abandon her like her ex-boyfriend did, and he was brave.
Ad blocker interference detected!
Wikia is a free-to-use site that makes money from advertising. We have a modified experience for viewers using ad blockers

Wikia is not accessible if you've made further modifications. Remove the custom ad blocker rule(s) and the page will load as expected.