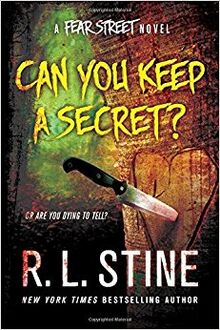 Can You Keep a Secret? is the fourth book in the revived Fear Street series.
Synopsis
Eddie and Emmy are high school sweethearts from the wrong side of the tracks. Looking for an escape from their dreary lives, they embark on an overnight camping trip in the Fear Street Woods with four friends. As Eddie is carving a heart into a tree, he and Emmy discover a bag hidden in the trunk. A bag filled with hundred-dollar bills. Thousands of them. Should they take it? Should they leave the money there? The six teens agree to leave the bag where it is until it's safe to use it. But when tragedy strikes Emmy's family, the temptation to skim some money off of the top becomes impossible to fight. There's only one problem. When Emmy returns to the woods, the bag of money is gone, and with it, the trust of six friends with a big secret.
Ad blocker interference detected!
Wikia is a free-to-use site that makes money from advertising. We have a modified experience for viewers using ad blockers

Wikia is not accessible if you've made further modifications. Remove the custom ad blocker rule(s) and the page will load as expected.