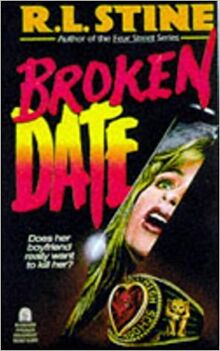 Broken Date is a crosswinds horror novel by R.L. Stine.
Synopsis
Jamie and Tom have been going out since junior high. They are planning to graduate from high school and attend college together. Everything's perfect until Tom breaks a date--and all the horror begins. What has happened to Tom? To Jamie's horror, the boy she loves is stalking her and making threats. Now, there's nowhere Jamie can hide.
Ad blocker interference detected!
Wikia is a free-to-use site that makes money from advertising. We have a modified experience for viewers using ad blockers

Wikia is not accessible if you've made further modifications. Remove the custom ad blocker rule(s) and the page will load as expected.