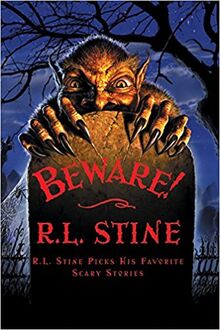 Beware! is a collection of R.L. Stine's favorite short stories in one book.
Synopsis
Dim the lights, lock the doors -- and BEWARE! It's time to read R.L. Stine's favorite scary stories.
Discover a ghastly secret in "The Judge's House," a terrifying tale of evil rats by Bram Stoker, the author of Dracula. Laugh out loud at the scary surprises in poems by Shel Silverstein and Jack Prelutsky. Visit an evil carnival in "The Black Ferris" by Ray Bradbury. (R.L. Stine says this story changed his life!) Within these pages you will find spine-tingling stories by writers and artists who are famous for hair-raising fun. R.L. Stine has selected them just for you, and he has included two new tales of his own!
Stories
The Black Ferris by Ray Bradbury
The Conjure Brother by Patricia McKissack
My Sister is a Werewolf by Jack Prelutsky
The Surprise Guest by R.L. Stine
The Judges House by Bram Stoker, retold by R.L. Stine
The Cremation of Sam McGee by Robert W. Service
The Elevator by William Sleator
The Witches by Roald Dahl
Joe is Not a Monster by R.L. Stine
Tiger in the Snow by Daniel Wynn Barber
Trivia
This is the second R.L. Stine anthology book to have a story written by Ray Bradbury and Roald Dahl, the first being Scary!
This is the only anthology book to have more than one story written by R.L. Stine.
Ad blocker interference detected!
Wikia is a free-to-use site that makes money from advertising. We have a modified experience for viewers using ad blockers

Wikia is not accessible if you've made further modifications. Remove the custom ad blocker rule(s) and the page will load as expected.