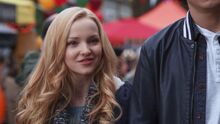 Beth is the main protagonist of the film, Monsterville: Cabinet of Souls, played by Dove Cameron.
History
Beth and her friends go to Dr. Hysteria's Hall of Horrors, where she notices that the monsters are real, and that Hysteria is a minor demon that eats souls, but he wants Beth to join his family of monsters, They want Beth to join them as her strength is what they seek in family; however, Beth douses them with a cocktail of exorcism materials, destroying them and their carnival. This frees, Kellen, their friends and another recent victim.
Ad blocker interference detected!
Wikia is a free-to-use site that makes money from advertising. We have a modified experience for viewers using ad blockers

Wikia is not accessible if you've made further modifications. Remove the custom ad blocker rule(s) and the page will load as expected.